SBA & State Guaranteed Loan Solutions
Partners Bank helps small businesses think big. As a Preferred Lender (PLP) with the Small Business Administration (SBA), our clients can take advantage of an efficient approval process. That means small businesses can gain the resources they need for growth and expansion much quicker. Government guaranteed loans are often an ideal solution for small businesses where conventional business lending may not be a good fit.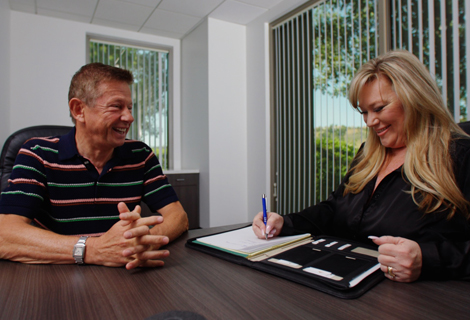 SBA Loan solutions
SBA 7(a) Loan
The SBA 7(a) loan is the most common SBA loan product, offering flexibility on terms and business uses. An SBA 7(a) loan is a good option for a variety of purposes, including business acquisitions, partner buyouts, real estate purchases, refinance, working capital, and more.
SBA 7(a) loan features:
Borrow up to $5,000,000*
Up to 90% bank financing
Government guarantee up to 85%
Fully amortized/no balloon payment
No pre-payment penalties for loan terms under 15 years
Terms from 5 to 25 years
Variable rates
Can be used for nearly any business expense
SBA 504 Loan
The SBA 504 loan allows you to buy real estate or other fixed assets with as little as a 10% down payment. SBA 504 loans enable business owners to buy commercial real estate and other fixed assets at below-market, long-term, fixed interest rates. Fully amortized over 25 years, these payments carry no balloon payment. You can also use an SBA 504 loan to construct a new property, upgrade an existing building, purchase equipment, or convert facilities to energy-efficient facilities.
SBA 504 loan features:
Borrow up to 90% of project costs*
Low down payment (typically 10%) conserves your cash
Variable and fixed-rate options
Loan amounts up to $15,000,000
Buy real estate, equipment, machinery or other fixed assets
SBA 504 vs. SBA 7(a) vs. Conventional
Down Payment
Interest Rates
Fees
Project Size
Collateral
Prepayment Penalty
SBA 504
Down Payment 10% minimum
Interest Rates SBA second mortgage at below-market rates, fixed for 25 years
Fees Included in SBA loan; approximately 2.15%
Project Size No maximum
Collateral No additional collateral required
Prepayment Penalty Yes, for first 10 years, declining each year
SBA 7(a)
Down Payment 10-15% minimum
Interest Rates Typically variable; tied to prime
Fees Paid out-of-pocket; typically about 2.75%
Project Size Maximum loan amount of $5 million
Collateral Additional collateral typically required for 90% of financing
Prepayment Penalty Yes, typically in first three years
Conventional
Down Payment 25-40%
Interest Rates Competitive market rates
Fees Cost and fees can be discussed with your Client Advisor
Project Size Up to $10 million or more
Collateral Typically no additional collateral required
Prepayment Penalty Varies by lender
Eligibility
Most for-profit businesses may be eligible for the SBA 504 program.

For existing real estate, you must occupy 51% of the property within one year of funding. For new construction, you must occupy a minimum of 60% of the property.

The tangible net worth of your business cannot exceed $15,000,000. After-tax profit for the last two years cannot exceed $5,000,000, or you may meet size standards based on the number of employees.

The personal net worth of the business owner is not a factor in determining eligibility.